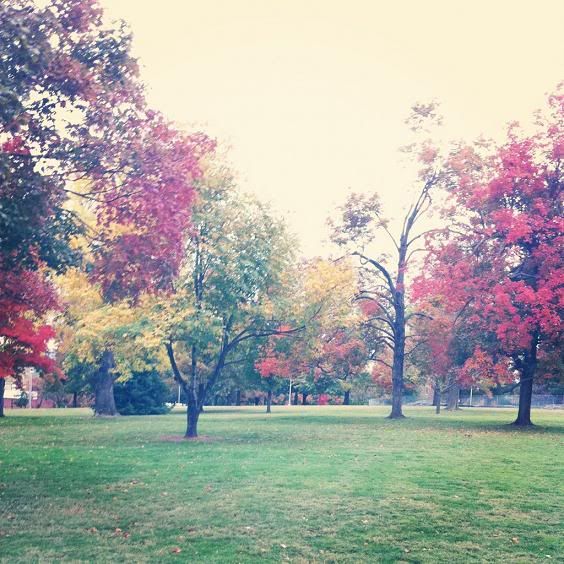 {The trees on campus are so pretty right now! I'm going to miss this place a tiny bit.}
Tonight I applied for graduation! I can't believe I'm
finally
going to get out of here! (I kind of didn't really think it was ever going to happen.) It's such an exciting, scary, unsure and overwhelming feeling. It's terrifying to think about moving on and leaving behind the routine that's become my life. It's even more terrifying to think that I probably won't be in this town a year from now; who knows where I'll be? But I know good things are going to happen.
It amazes me how quickly my college years have passed by. Four years ago, I was a freshman at Missouri State University in Springfield. It was a campus where I knew no one, a town that I knew very little about, and it was 12 hours from my home in Auburn, Alabama. The two years I spent in Springfield were incredibly full of ups and downs. It was thrilling! It changed me so,
so
much. It's where I fell in love for the first time, got my heart broken for the first time, lived away from my parents for the first time, made friends with people I'll never forget and experienced my first taste of true freedom.
By the end of my sophomore year, I knew I didn't belong in Springfield anymore, so I transferred to the University of Arkansas, which was only 30 minutes away from my family's new home. I love it here - it's where my family is and where I met the love of my life, after all - but I've never felt like I belong here. It's been a great place to study journalism and spend my early 20's, and I'm thankful for the time I've had here. But I'm ready to move on to the next stage of my life, with this wonderful man by my side.
So yeah,
I applied for graduation tonight
. I guess it hasn't really hit me yet that I'll be out of here in May. The next few months are going to be a wild ride, but I'm so ready!
(Also, look at my pretty new blog design! Camilla over at
Champagne Bubbles
made it for me, and I couldn't be happier with how it turned out. She was such a joy to work with! I'd recommend her to anyone who wants a pretty blog makeover. :)